Himalayan Salt Crystal Lamp Review & Giveaway (US)
One word came out in my mind right away when I saw this glowing lamp, it's "Romantic"! I love the red-orange glow, it makes you feel warm when you're looking at it. It's a unique home accessory in the coming cold season. It also made me think about honeymoon. Gee!
I received this natural sized salt lamp at Himalayan salt shop online. It's very unique and not just an ordinary night lamp because it helps on ionizing air indoors. The ionization works when you turn on the bulb, which is inserted on the hole at the base of the crystal. The lamp gets warmer once you turn on the light. It will then release negative ions to clean indoor air from dust, pollen, dander, cigarette smoke and bacteria. The more warmer it gets, the better air purification you will have in your room. It doesn't need to be hot as it may get damp, or sweat will form on it's surface which might slow down ionization. Wiping it with a damp and dry cloth periodically, will help increase it's longevity.  They included a 15-watt candelabra bulb with this 4-5 lbs salt crystal, and for them it is a standard lighting for its size. They also come in different natural crystal sizes that would best suit according to the size of any room.
This Himalayan lamps are made of 100 percent authentic Himalayan crystal salt. Such crystals can be found at the foot of the Himalayan mountains. This lamps are chipped out from those crystals where a hole is placed under its base for lighting.
Other benefits that this lamps can offer is for: Kids & families having allergies, asthma, and ADHD. These lamps make great gifts  on any occasion for weddings, birthdays and holidays. You can sign up on their newsletter to get promotional updates. At the moment they are offering a reusable coupon code for 10% off every Himalayan Salt Shop purchase.
Welcome to Himalayan Salt Crystal Lamp Giveaway
Hosted by Hearts Content Of A Mama in behalf of Himalayan Salt Shop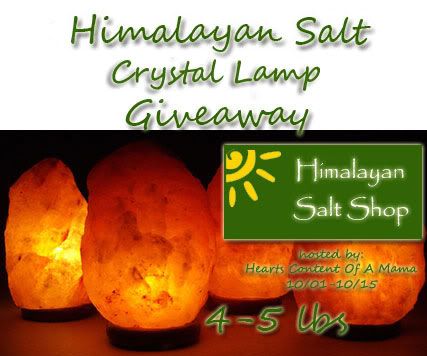 About the prize: One very lucky winner will get a Himalayan Salt Crystal Lamp (4-5 lbs). Giveaway will run until October 15th at 12:01 am EST, must be 18 years or older to enter.
This giveaway is open to US residents only!
To enter, just fill up the rafflecopter form below.
a Rafflecopter giveaway
Disclosure: I received no compensation for this promotion. My opinions are my own and may differ from those of other consumers.
Hearts Content Of A Mama is not responsible for sponsor prize shipping.
Thank you for participating everyone and Good Luck!
Many "Thanks" to the lovely bloggers who are helping me to promote this giveaway!