Ozeri Stone Earth Pan Review
It's a trend these days to find new Eco-conscious and non-stick cookware in the market. Not only that they are designed for easy use and cleaning, but they are also made of material that is healthier in cooking.  I must admit, I love to shop for cookware that has non-stick feature in it.
But I didn't realize if the pans I'm using before is chemical free or not. It's after I got this awesome pan from Ozeri, that I should think health-wise in choosing the cookware that I'm going to use in my cooking. I received a Stone Earth Pan (10 inches) by Ozeri for me to write my honest review. Ozeri is one of the products that Moderna Houseware is distributing in USA. I read they are also distributing durable products in Hongkong, Brussels, Shanghai and London. They said they handle more of their online sales via Ozeri Amazon. This particular product that I'm using can be also found at Ozeri Canada in Amazon.ca. They are still on the process of adding more this pan in Ozeri Amazon and other Ozeri outlets where it will be available to buy it within US. At the moment, the pans that I saw in Ozeri Amazon that are available in the US, has a price range of $25 to $40. I think the price is really good considering that you'll get a high-quality product.
This Stone Earth Pan is really nice! It has the natural looks of a stone in it's inner surface. It has Greblon non-stick stone coating from Germany and it is stonehenge ultra-safe 100 percent PFOA-free when used in cooking. My husband and I used this pan many times lately. The first time I used it was when I was cooking tacos for dinner. I washed the pan first and heat it on the stove top. I heated the ground beef without using an oil. I drained the fat, added taco seasoning and a little bit of water for moist. The non-stick surface really works! Nothing stick at the bottom of the pan after I cleaned it. I didn't feel the grease from the tacos! It's awesome. I definitely would love to buy more of these pan.
If you guys want to check out this pan or more of Ozeri cookware, you can look for it in Amazon, ATG, Sears and Home Depot online. Ozeri is also in Facebook so don't forget to like/visit them! Aside from cookware, they also have product line in digital lifestyle, bathroom, a votre sante, health and fitness, and luxury forever.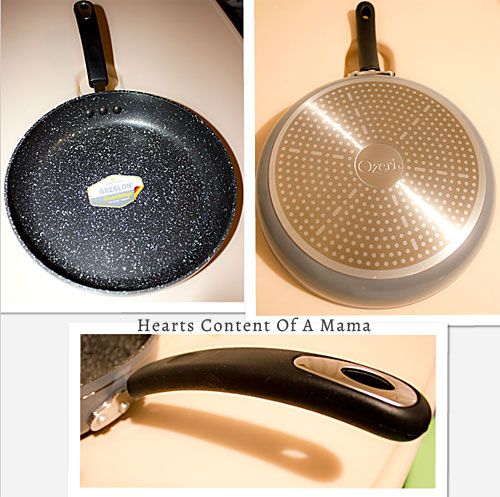 The Stone Earth pan with silicone coated handle.
Thank you Ozeri & Moderna Housewares!
Disclosure: The cookware product is being provided to me by Ozeri for my participation in this blogging/trial program. These items are not intended as payment for any favorable opinions. I'm working with the Ozeri brand and that they provided the product for the review to ensure we're operating within FTC guidelines.