This is what we did in our homeschool class yesterday. I have to find ways in keeping my 2 year old busy and making homeschool lesson fun with my 4 year old. I spread out a 4 pound bag of Pinto beans on a baking sheet for my 2 year old to do some sensory play. He loves playing with it with his bare hands.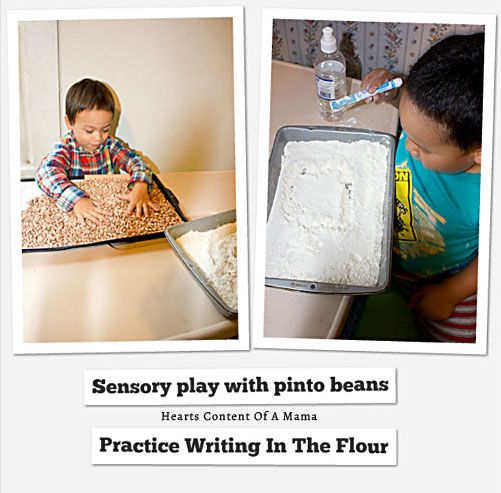 He imitated his brother in doing some writing by dipping his index finger and do some swirling motions into the tray. I spread some white flour on a baking tray for Little G. He used his index finger in writing three letters in it. It's the lowercase t, b and m that we learned in the past 3 weeks. He said it's fluffy. He also had fun drawing shapes in it  using a marker with a closed. At first, I thought these ideas might not work out because it can be a mess. But you won't mind it after you see your kids having fun and at the same time learning related to school stuff.
How about you, do you have simple and fun kids activities at home to share?