How was your Christmas celebration folks? Hope you had a fantastic celebration! Here's what I have in my humble abode this year. My kids helped me put up our artificial tree. I decorated it with series lights and Christmas ornaments. I built a house for my nativity scene with the use of an empty box, chair and white drape and paper.
I put the Christmas wreath on top of the Nativity scene box. I also put a tiny Christmas town under our tree. And of course, wrapping lots of presents which my kids were anticipating to open on Christmas day since most of it are for them. Smiles. A couple of days before the 25th, I made some cookies and sweets. The goodies were not just all for us but we shared them to our church friends and officemates of my husband.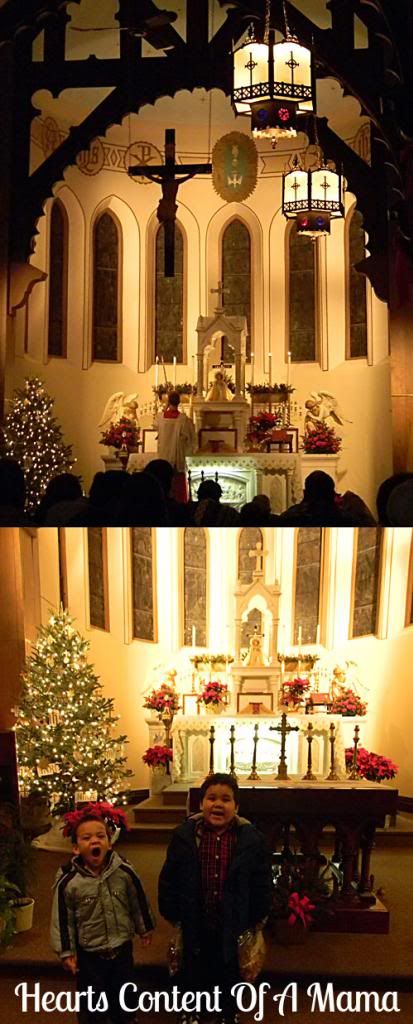 It's our tradition as a family to always go on the Midnight mass during Christmas Eve. This year, we went to Saint Anthony's in Cambridge Springs PA. Our Parish priest there celebrated a high mass for this joyous event. Thank you Father! The boys in the picture are yawning. They slept in the car, all the way home.
The picture above is a beautiful statue of the Holy Infant of prague dressed in gold vestments because it's His Big Birthday! We didn't take out our Christmas tree yet because Christmas for us extends until Epiphany or Feast of the Three Kings. My boys, husband and I enjoyed lighting our little Christmas shrine in our living room. The boys are busy reading books and playing toys from their Christmas presents. Hope you guys enjoy our family pictures!