Hello Everyone! Have you celebrated Mardi Gras yet? One day more to go and it's Lent. Smile. We may have different traditions on what to give up as sacrifice and offerings to God for Lent. For us, we still keep the tradition of not eating goodies within the Lent period or before Easter.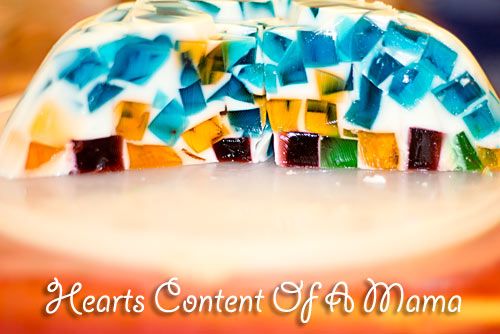 It's not a required thing to do but we already have done it in the past so we'll continue not to break it. 🙂 It's healthy and it's a good feeling of accomplishment to do something for God on Lent. We also don't forget to do our other important obligations for God within our church other than this like meat fasting, visiting the Blessed Sacrament, station of the cross, prayers and others.
So what I have here are the Window Cathedral or Stained Glass Jello batches that I made a few weeks and days before Lent. I have written my recipe about it in the past here. It's a delicious desert that you will enjoy for less than $10. The first photo have berry blue, lemon, black cherry and lime jello pre-made flavors. I must admit this is a very strong flavor combination. I didn't like that the lime, lemon and black cherry are with the berry blue. The next time I did it, I let the lemon, lime and black cherry on their own flavors with the white gelatin like this picture below.
Lemon Window Cathedral jello.
I didn't achieve the perfect solid jello texture on the colored flavors here but still, they taste really good. The combination is just right. They are lemon, peach, melon, grape and orange jellos in the white jello.
This is the grape and peach flavors in white gelatin.
These two batches are the ones I made last Friday.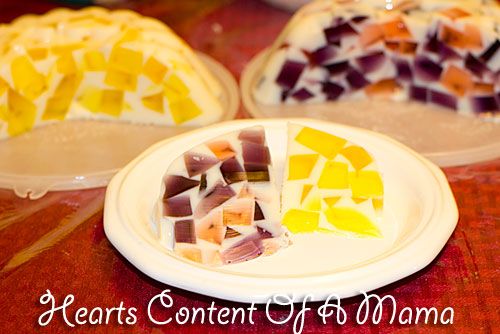 Oh, this is batch that came out the perfect texture that I wanted! I love that the lemon is separated from grape and peach flavors. I also added 3 knoxx gelatin powder, 1 condensed milk, half cup 1 percent milk and half cup cold water for the white gelatin.
Hope you like it folks!