I finished my Wilton cake design course 2, two days after Memorial day. During our third class, we practiced to make lilies, wilton rose, daffodils and violets in royal icing. I only finished 8 flowers during the third class. The 2 hours seem to gone by so quickly. The instructor has to go fast as she has to introduce more techniques.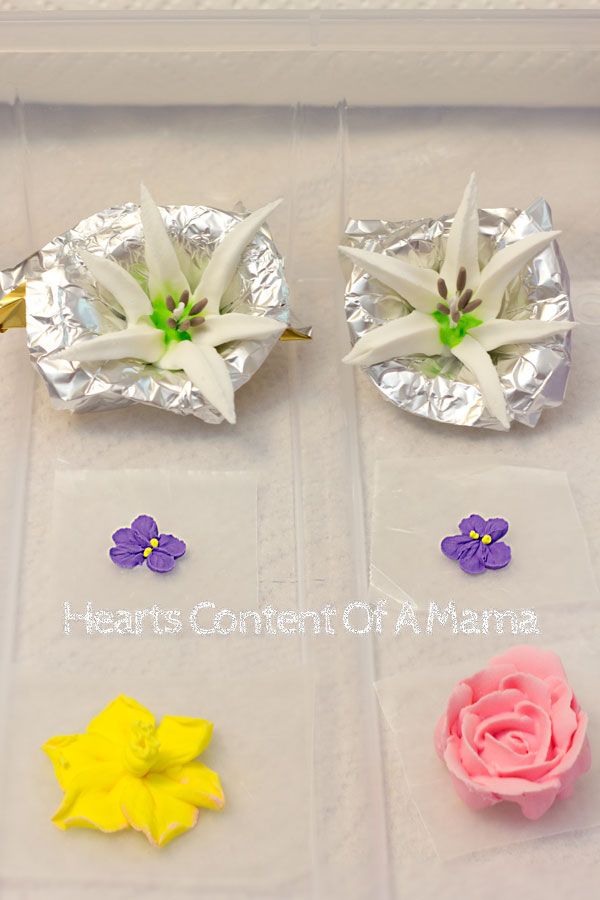 I'm glad my royal icing were not in very stiff consistency. I'm glad to hear from my instructor that I'm improving and learning fast. The lilies were the easiest to make in the third class. My roses didn't show the way I wanted them to be. It must be because my hands were shaky. I also like the daffodils but I need to widen the spiral cone at the center next time. The violets were a little bit hard as they need to be tiny and you need your hand to stay calm. The other daffodil and rose in this picture got eaten for testing. Winks.
At the fourth class, we were required to bake our own cake and ice it before going to class. Here's what mine look like above. I had a chocolate cake with white buttercream icing. It's a one tier cake and it is 8 inches wide.
This is what my final cake looked like after the fourth class. I braved myself to learn how to ice a basket weave around the cake. I am so happy that it went well and everyone congratulated me for having the guts to do it. Smiles. I should've placed more flowers on top but at that time my hands felt so tired. I also painted my white lilies to pink to look like star gazer lilies.
This is the cakes that my other classmates made. I like those roses that the other one made. They look so real. Made me challenge to practice for roses in royal icing.
And here's my Course 2 certificate of completion. I can't wait to take Course 3 soon!
Stay tuned for the 2 birthday cakes I made for my two boys a couple of weeks ago. Smile.